What happens if you haven't filed taxes in years? How many years can you go without filing taxes? Sometimes, life happens, and you can't pay your taxes on time or collect all the information you need before the filing deadline. Whatever your reason for not filing, the Internal Revenue Service (IRS) takes not filing quite seriously.
Fortunately, if you are behind on taxes, you can get back in good standing. You can work with a tax professional who can investigate which tax returns need to be filed and help you collect the information you need, research your account, and file your returns.
Haven't Filed Your Taxes in Years?
What Are the Consequences of Failing to File Your Taxes?
Unfortunately, those who do not file a tax return on time may be charged with a crime. Penalties can include significant fines and even prison time.
Luckily, the government has a limited amount of time in which it can file a criminal charge against you for tax evasion. If the IRS chooses to pursue charges, this must be done within six years after the date the tax return was due. Additionally, a non-filer who voluntarily files their missing tax return is not likely to be charged.
Anyone can unintentionally fall behind on paying taxes. Suffering a serious illness or a death in the family could result in a person forgetting to pay their taxes on time. Once a non-filer has gone a few years without filing, they may find it tempting to continue neglecting the task. However, if non-filers have not filed taxes in several years, this could leave them exposed to steeper penalties and time in prison.

Is There a Time Limit on Tax Collection?
Having old, unfiled tax returns may lead you to believe that the state tax agency or the IRS has forgotten about you and you are off the hook. However, the truth is that you can still be on the hook for taxes you owe 10 years down the road.
The IRS actually has no time limit on tax collection nor on charging penalties or interest for every year you did not file your taxes. After you file your taxes, however, there is a time limit of 10 years in which the IRS can collect the money you owe. State agencies have their own rules and often have more time than the IRS in which to collect taxes.
What Paperwork and Documents Do You Need to Gather?
The first step of filing your taxes is gathering paperwork and documents. For every year that you did not file a tax return, you should gather your W-2s or 1099 forms. If you cannot find these documents, you can reach out to your employer to request a copy of this income information. Ensure you have receipts on hand if you intend to claim certain credits and deductions.
Additionally, you can request tax documents from the IRS by filing Form 4506-T, also referred to as the Request for Transcript of Tax Return. Rather than duplicate copies, the IRS will send you transcripts that contain the important information from your previous W-2s and Forms 1099 and 1098.
What If You Are Unable to Pay the Full Amount of Taxes Owed?
If you are unable to pay the full amount you owe, you may be able to make a payment plan with the IRS. This is also known as an installment agreement. When you make a payment plan with the IRS, you agree to pay the amount of taxes you owe in an established, extended timeframe. If you believe you could pay the full amount of your taxes owed within the timeframe, you may want to consider requesting a payment plan.
Offer in Compromise: An Offer in Compromise may be right for you if you owe a significant amount of tax, have minimal income and assets or can't afford a long-term repayment plan. When you agree to an Offer in Compromise, you will pay less than the tax you currently owe to settle your debt.
Non-collectible status: You may also be able to get your tax debt declared non-collectible if the amount you owe is particularly burdensome and you have a hardship that makes it impossible to pay the taxes you owe.
At BC Tax, we have been able to help negotiate successful installment agreements for taxpayers across the nation. If you believe your tax liability was calculated incorrectly or you need help with paying your owed taxes, we can help you find a tax solution that is right for you.
We have helped our clients obtain affordable repayment plans to stop collection actions and save tens of thousands on back taxes. We have also helped our clients substantially reduce the amount of tax debt owed through Offers in Compromise.

Why Should You File Your Tax Return as Soon as Possible?
Next, you will want to file your tax return as soon as possible. You could miss crucial deadlines if you delay taking action.
Sometimes, the IRS prepares a tax return when an individual hasn't filed a return in years. This is known as a substitute return, and the IRS uses this to assess tax and start collection activities. A substitute return doesn't have credits or deductions, which means the IRS's calculation of your tax could be much higher than what you really owe.
Deadlines for Letters You May Receive
If you haven't filed a tax return in a few years, the IRS will pull your tax documents from those years and use them to calculate your tax. They will then mail you a letter known as an assessment letter that details how much tax you owe.
When this situation occurs, you can either file an original tax return or petition the Tax Court within 90 days after the date of the notice of deficiency. If you do not respond to the letter in a timely manner, you will receive a second letter known as the Statutory Notice of Deficiency.
Assessment letter: Upon getting a letter in the mail, you may find that the IRS prepared a substitute tax return for you. In this letter, the IRS proposes to assess your tax based on the information the IRS has. This information typically consists of tax documents on file, such as W-2 forms and 1099 forms. In this letter, the IRS summarizes the sources of income that they used to calculate your tax.
Statutory Notice of Deficiency: This 90-day letter will be mailed to notify you that the IRS is prepared to start collecting unpaid tax, interest and penalties. The letter will advise you on your right to dispute this assessment in Tax Court, and you may file either an original tax return or a Consent to Assessment and Collection, which is to agree that the IRS's calculations are correct.
Documentation You Should Collect
If you are in this situation, gather the following documentation:
Letters or notices from the IRS
The last return you filed
Business expenses and income if you are self-employed
Tax documents, such as W-2s, interest income, 1099s and mortgage interest statements
If you cannot find some of your tax documents, you may be able to obtain them from the IRS. If you need to collect information on your expenses, you may find these numbers on receipts and bank statements.
The Statute of Limitations for a Refund
If you believe you may have a refund, then you will need to file your tax return within three years of the original filing deadline. If you file your tax return after this three-year deadline, your refund will expire. Outside of this three-year limit, the IRS cannot issue a refund to you, apply the refund to your outstanding balancing or apply the refund to a future estimated payment.
Few events are more stressful than opening your mailbox and finding a tax collection letter. The last thing you want to do in this situation is ignore the letters you receive from the IRS. If you receive a letter in which the IRS threatens enforcement actions like wage garnishment or asset seizure, now is the time to contact a tax professional.
Contact Tax Professionals
Finally, you may want to contact a tax professional who can help you through the process of filing your tax return as soon as possible. You can authorize a tax professional to call the IRS on your behalf to get transcripts and information. You can also authorize a tax professional to handle the entire process with the IRS on your behalf.
Additionally, you and your tax professional may be able to request a stay on enforced tax collection activity. Your tax professional can then follow up with the IRS to ensure the return is accepted. To receive the highest-quality tax-related services, consider working with an enrolled tax agent.
What Is an Enrolled Tax Agent?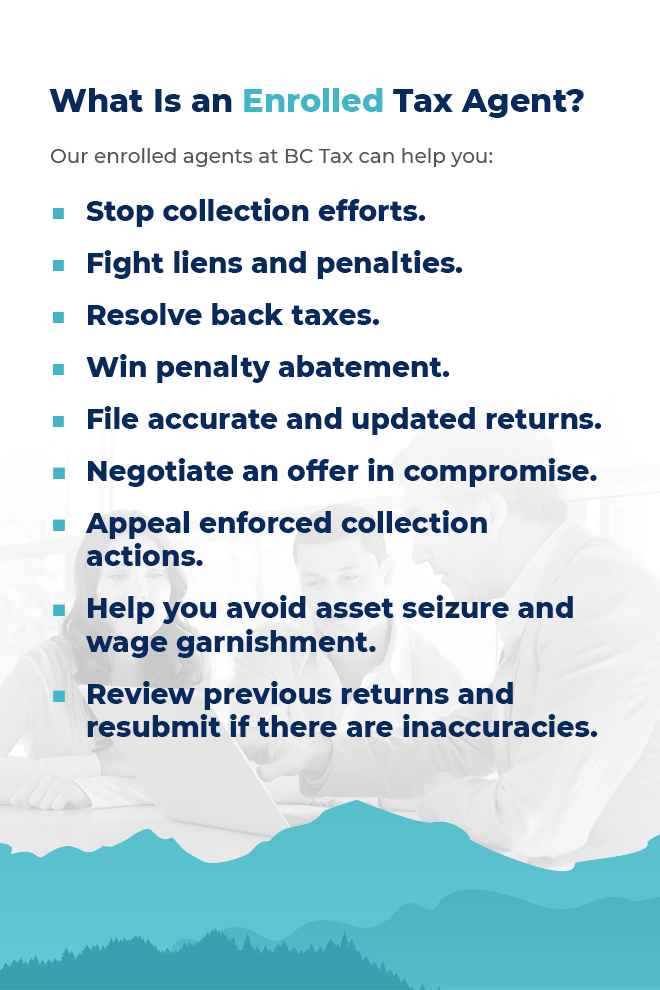 Enrolled agent status is the highest credential with the IRS. An enrolled agent can represent taxpayers with approval from the IRS, and working with an enrolled agent will be a powerful resource for you.
Our enrolled agents at BC Tax can help you:
Stop collection efforts.
Fight liens and penalties.
Resolve back taxes.
Win penalty abatement.
File accurate and updated returns.
Negotiate an offer in compromise.
Appeal enforced collection actions.
Help you avoid asset seizure and wage garnishment.
Review previous returns and resubmit if there are inaccuracies.
What Questions Should You Ask a Tax Professional?
When you choose to work with a tax professional, there may be a few questions you want to ask, such as:
What licenses do you have?
What is the price for your services?
How many unfiled tax returns do I need to file?
Should I hand-deliver or mail in my tax returns?
Do you have a project plan for my tax situation?
What is your preferred method of communication?
How will I receive a refund if I am owed one from the IRS?
Who will I be working with from start to finish on my tax situation?
Why Should You Work With an Enrolled Agent at BC Tax?
An enrolled agent must pass a three-part exam. This exam evaluates the agent's ability to understand individual and business tax returns. An alternative way to qualify for the status of an enrolled agent is by working directly for the IRS. Regardless, an enrolled agent needs to stick to strict ethical standards and meet requirements for ongoing continuing education.
The benefits of choosing BC Tax for our tax debt services include:
Comprehensive knowledge: Partnering with BC Tax also allows you to avoid challenges in communication. We never outsource to a third party who doesn't understand the IRS. Though we are a Denver-area business, we thoroughly understand how all state and federal taxes work.
Expert guidance: A tax professional at BC Tax can resolve issues and answer your questions. If you have unfiled returns, you likely have questions about your tax situation, and an experienced tax professional can provide you with the answers you need.
Flexible hours: When you work with one of our enrolled agents, you won't have to worry about time zones. You can communicate with your enrolled agent when it's most convenient for you.
Face-to-face interaction: We also understand how helpful it can be to meet with your enrolled agent and tax relief team in person. If you prefer to meet with us in person, you can visit our offices by scheduling an appointment to speak with our team.
When you choose to work with one of our enrolled agents, you can rest assured that you are receiving insightful support on your tax situation. When you need the training and expertise of an enrolled agent, we can put our experts on your case. Our agents are available at any time of the year to help you with your greatest tax-related concerns.

Access Tax Relief Services From BC Tax
Do you have tax issues or impending tax problems? You don't have to face the process alone. If you are facing tax debt and enforced tax collection, turn to BC Tax for help. We offer tax relief and tax resolution services to businesses and individuals in Colorado and across the country.
Whether you are trying to remove an existing tax lien or you have unfiled taxes, our Enrolled Agents can evaluate your situation and offer guidance on the best way to move forward. After your tax problems are resolved, you can utilize our tax planning and preparation services. If you want to learn more about our tax relief services, contact us at BC Tax today for a no-obligation consultation.